Show Review and Exclusive Interview with Andrew Rayel
A chat with Trance DJ/Producer about his classical training, inspiration, and favorite superhero before taking in his show at Cielo NYC.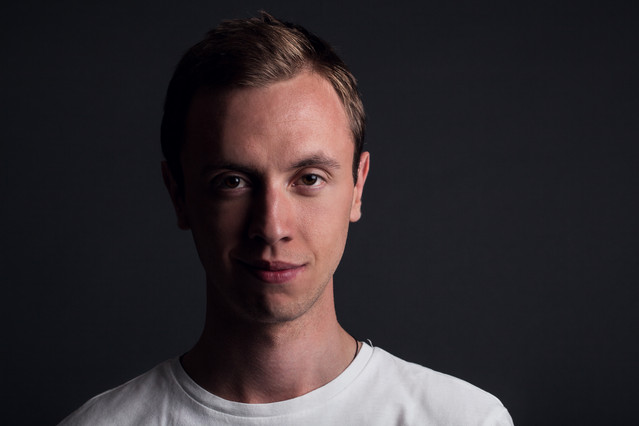 Hailing from the small country of Moldova, Andrew Rayel is a world renowned DJ/Producer who is unique for a variety of reasons, one mainly that he was classically trained in music. This has led to his being called "a modern day Mozart."
We were lucky enough to sit down with the 21 year old producer before his show at Cielo Nightclub in New York City last Thursday night, April 10th.

Is this your first time to New York City?
That's right, that's my first time in New York, so I'm so excited about it
Do you have any plans in New York besides your show tonight? 
Not really. We just arrived a couple hours ago, and there is a show tonight and we are leaving tomorrow morning to Philly, and then to Chicago, so it's a pretty jam packed tour.
How would you say being classically trained in piano and attending music school has influenced the way you create music?
I'm a big fan of classic music.  When I was in musical school, learning piano and all the classic stuff, I was never a big fan of learning how to play some other people's tracks.  I was always creating my own melodies, and trance was the way how I can share my melodies with the fans- through electronic music.  So basically, that's how it all started.  I had my melodies in mind, and one moment I had to choose where my melodies were gonna go. Either be R&B, rock, house, trance, so trance was the perfect way to combine classic music with electronic music.
And how did your relationship with Armin come about?
Well, it started like 3 or 4 years ago, when I actually released one of my first tracks on a small label from Russia.  And thankfully they had the really good promo pool, so they used to send all the tracks to Armin and to all the big DJs. Lucky for me, one of my tracks was sent to Armin and he really loved it. It was Future Favorite, and Tune of the Week on his State of Trance music show. I released a few more tracks, and after that the guy from Armada come back to me and said "hey, you are doing great music, wanna work with us?"  I said "yes, of course, why not" so basically through Armada and through Armin, I'm here, I become such a big DJ now.
Who are some of the other artists who have influenced you along your path?
Well, I'm a big fan of Dash Berlin, of Gareth Emery, of W&W.  So basically, they all inspired me.  And now I'm really happy that they're my friends, and I can share my music with them, and they can, they always send their music. It's all about love and sharing.
Would you ever consider making an acoustic only album, similar to like what Above and Beyond did?
Yeah, because I'm a big fan of soundtracks.  Actually I've created a short soundtrack for an Indian movie called Drop Chi. It's about a prison in India, so there's a really sad song…it should be released around this time. But I have a lot of ideas, like full classic album, piano, string, you know all the live instruments and so maybe in the future I'll release something like that.
And what genres of music do you listen to outside of trance? 
Well of course, a lot of classical music.  But first of all, I'm a musician so I love all kinds of music even R&B, even pop, even rock music, so as soon as there is a melody, a good melody, I'm a big fan of that genre.
How do you go about creating your podcast?
Well it's really hard. It goes once per two weeks, just because nowadays it's really hard to find good music.  So I do it in a new way.  I do it like a miniature mix every two weeks so in one hour I mix 24-25 tracks.
Wow, that's pretty ambitious.
Basically all of them are mash ups, really mixed into each other, and sometimes, I create some new tracks out of that.  So that's really cool, cause most of them that have like, one hour show, they play 14 to 16 tracks, I play 24.  That's my thing.
And do you have any dream collaborations that you'd like to see become a reality?
One of my dream collaboration was to do ever a track with Armin, so it just came true. So we did a track together which is called EIFORYA.  It was released on Armada Music, and the cool thing is that, even if it's trance, all the house DJs played it on the big festivals, even like Hardwell and W&W.  They really love it and play it and so we really didn't expect that.
Transcending the trance boundaries.
That was a big thing.  In the future I would love to do collaborations by Dash Berlin of course, I dunno, like with any DJ, as soon as there is a good idea I'm up to do a collaboration.
Do you see any significant difference in the support from trance fans in the US shows vs European shows?
Well, of course, EDM I think is much bigger now, here.  It was bigger in Europe back in years.  But I think people got a bit tired of it, because they had it from 1995 or something when here it like R&B and rock.  But I think it all goes round. In a few years it's gonna slow, I think it's gonna slow down a bit here or start again there, you never know.  Or in Asia, you know never know.  So, it's not that much of a difference, cause the fans, they love your music, they support you, they vote for you, so that's the most important thing for us.
And what are top three favorite trance tracks of the moment?
Uh, of the moment.  I would say the number one is Gaia- Empire Of Hearts, number two would be MaRLo – Visions, and number three would be our collaboration with Armin-EIFORYA.
That's great.  Who is your favorite superhero? 
Superhero?  Hmm..I love like all kinds of superheroes.  I think Batman. Yeah. He has Batmobile, he has Robin.  He's cool.
What advice would you give to aspiring producers? 
Never give up, always do your thing, and never read the comments from the computer. That's what I learned from Armin.
He told you that?
Yeah, of course, there will always be complainers that say this is bad, this is not trance, this is not music, and you should not do that.  And you'll read that of course and get upset, you don't want to do anymore, you want to leave all this stuff.  But just never do that, just do your thing, and if you like it, then it's great. Be yourself.
Is there anything your fans can do to bring you back on another US tour?
Well, of course, they just have to share the love through the social media because that's where most of the promoters look.  So if they see there is people that really want me back somewhere in one city, of course they're gonna book me, cause they see it is a big buzz around me.  It's like it was in Exchange LA, promoter told me like, my name used to go around the club for like two years, and the only one problem, they couldn't bring me because I didn't have my Visa sorted, so… But it was sold out like two weeks before the show. If you share the love, I'll be there.
Does your upcoming album have a set title slash release date yet?
It has a title, it has a release date, but it's gonna be announced this week. The album's definitely gonna be released in May. So it's an album with a full history behind it.  It's not a few tracks pulled together.  With an intro, with an outro, with the beautiful melodies, with a lot of vocal tracks, with a lot of experiments, a lot of sounds people would not expect from me.   No drops, just like really melodic and progressive.
And do we have anything, what else do we have to look forward to from you for the next year?
Well, I'll be playing a lot of festivals, I'll be back to New York for EDC. I just confirmed for EDC New York. I know a lot about EDC, it's gonna be my first time playing EDC, so I really looking forward to it. Yeah, it's always great to play a small club where you can actually see people and interact with them, touch them. But it's also awesome when you play like a huge festival, so you can just see the crowd moving. You don't see people, you just see something moving.
The Main Event:
Andrew played an incredible set from 1-4am. Mixing big room sounds with seamless transitions into classical music and that beautiful trance that his fans have come to know and love so much. Our personal favorite song of the night was his rework of Cosmic Gate's classic track "Exploration of Space." He also dropped Armin Van Buuren's newest single "" Ping Pong which made the crowd go wild.
Another track that perfectly blended beautiful melodies with powerful beats is his mashup of Gareth Emery's "Sanctuary" and W&W's huge track, "Invasion."  Without a doubt, it was one of the most excited group of people we've seen in an intimate venue in a long time. The room was completely packed, people were holding homemade signs, and singing along to all the vocal tracks at the top of their lungs.