Bea Launches an Exquisite New Brunch Menu
Artisanal cocktails, small plates, and a delicious weekend brunch discovery.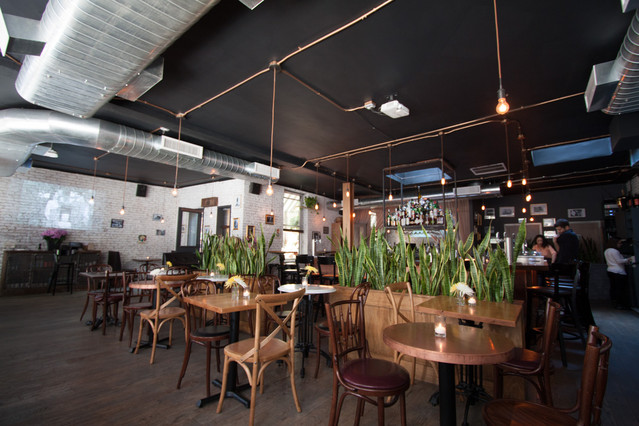 This weekend we had the pleasure of checking out the new brunch menu at Bea, the brainchild of Sotir Zonea. This delightful bar and restaurant is adjacent to the theater district and is thus a perfect option if you're looking for a bite to eat before or after a show. Warmly greeted by the big smiles of several staff members as we walked in, the environment was instantly inviting, with lots of natural greenery and flowers as well. There's also a lovely adjacent sky lit courtyard with a 37-year-old tree and flowing fountain. Adding to the delightful environment, there are a couple of old black and white movies playing on the walls.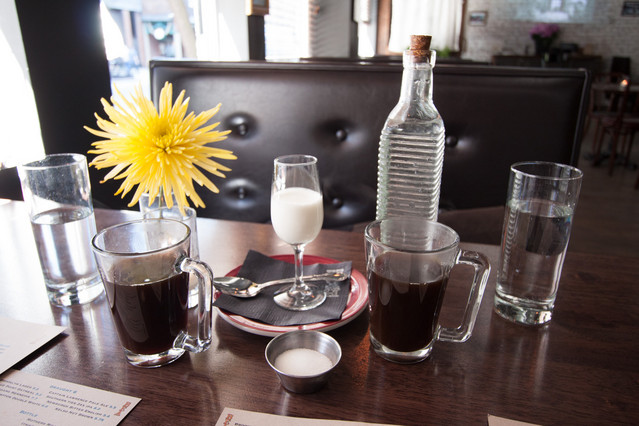 We started with coffee, which was served in a delightful presentation and accompanied by heavy cream. Next, the bartender crafted several incredible cocktails for us to enjoy with our meal. The first was a Tropical Mimosa which was an artful mix of St Germain, Pineapple, Crème de Cassis, and Orange Juice. Then there was the Bloody Mary. This is hands down one of the best bloody mary's we've had in the city. It was mixed with Sriracha, cumin, and smoked pepper. Finally he made his own creation which was fresh new take on a brunch cocktail with Prosecco, St Germain, Ginger Beer and Chartreuse.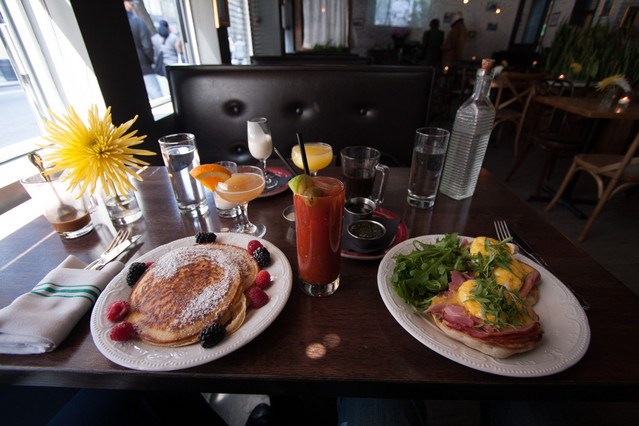 For the main course, we went with the classes — Pancakes with Berries and Eggs Benedict. The benedict was fantastic with smoked tasso ham and served with a fresh green salad. The hollandaise sauce was unique because it was sprinkled with orange zest. The pancakes were so incredibly fluffy and served with rosemary honey which added a unique and delicious twist on the classic toppings. Finally, we finished off the meal with a decadent pear and ice cream dessert. The honey glazed fruit was paired with a hazelnut biscotti ice cream and a melt-in-your-mouth whipped cream. We definitely give this spot two thumbs up and would love to come back for dinner.
Bea is located at 403 W. 43rd Street and serves brunch Sat & Sun, 11am – 4pm. If you can't make brunch, Bea is open seven days a week for dinner. Sun-Wed from 5PM-1AM; Thurs-Sat from 5pm-2am. For reservations call 212-602-1910 or visit www.beanyc.com