Mysteryland 2014
The iconic festival took over the historical site of Woodstock over Memorial Day weekend.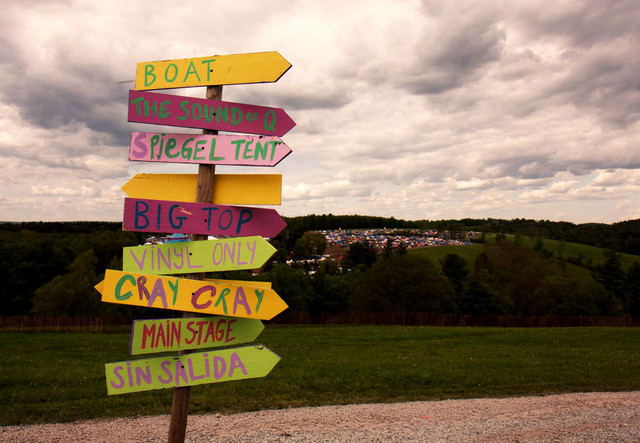 Over Memorial Day weekend, I had the pleasure of attending ID&T's  iconic Mysterland festival as it made its debut in the USA. This iconic festival has been held annually in the Netherlands since 1993, and this year they brought it to our country's historic festival location in Bethel Woods, the site of the historic 69' Woodstock festival.

This festival was unlike any of the other festivals we've been to. It was a creative journey combining music with theatre, movies, interactive installation art, street performers, and shows at eccentrically decorated stages. Therefore, we were thankful that they kept it fairly exclusive with 20,000 attendees from 27 countries.
ID&T is also responsible for the legendary events Tomorrowland, Sensation and Life of Color, and this was definitely no exception to the high level of production value. From Moby's set riddled with classes such as "Adagio for Strings" and "Infinity" to Coone at Q-Dance dropping his mix of Dimitri Vegas, MOGUAI & Like Mike's track "Mammoth" there were a multitude of amazing moments.
Top 7 Moments at Mysteryland
1. Discovery of Olivier Weiter
One of our favorite things about the festival experience is checking out artists we've never heard of. Our DJ discovery happened by complete accident in a tent in the campgrounds. Turns out Olivier Weiter got his start playing underground house parties in Amsterdam. Once we entered the tent we were caught up in the rolling drum rhythms and melodic, dreamy sounds. It was incredibly easy to get lost in the music. His unique and upbeat sounds were perfect for bouncing around and dancing our hearts out. Check out his set from 2013.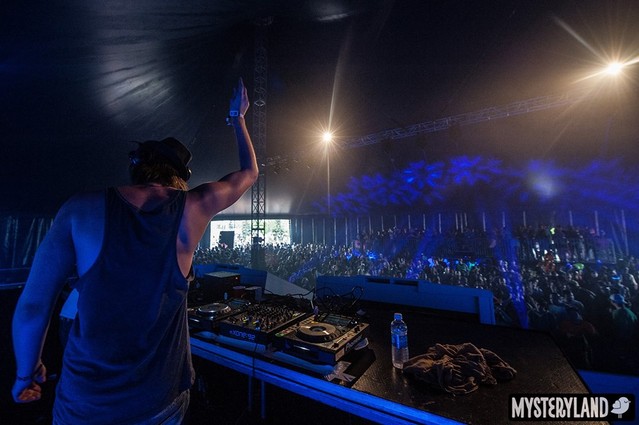 2. The Artsy Side
Exploring the artfully decorated tent filled with oversized books converted into bird houses proved to be quite the sanctuary, offering solitude and an atmosphere for decompressing from the day's events. Speaking of decompression, there was a beautiful Healing Garden where the Founder of Burning Man, Moby, and a NYU Professor all gave talks on various elements of their expertise.
Being surrounded by nature was really an important element of the vibe. Other festivals that are in big arena's and race tracks just don't have that same magic. It's clear that the focus on culture, art, creativity and sustainability set the musical experience apart from the rest.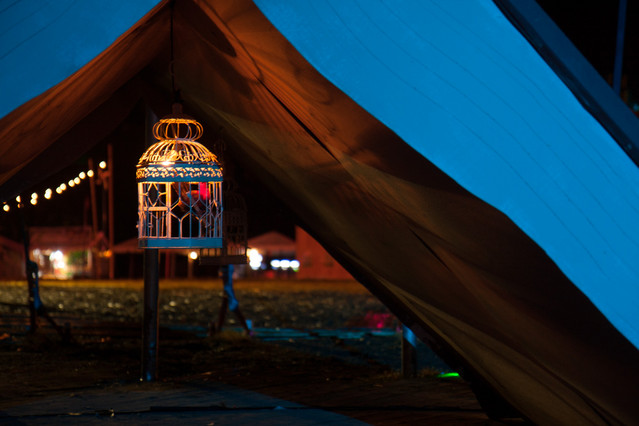 3. gLAdiator on a Boat 
The high energy Los Angeles based duo brought a ton of great trap, bass, and a general party vibe to the boat stage. The crowd went wild as the sounds wobbled and pulsed.
The boat-load of booty shaking (pun intended) paired with the perfect weather and scenic view was both picturesque and lots of fun. Check out their title track "Assembly line" here.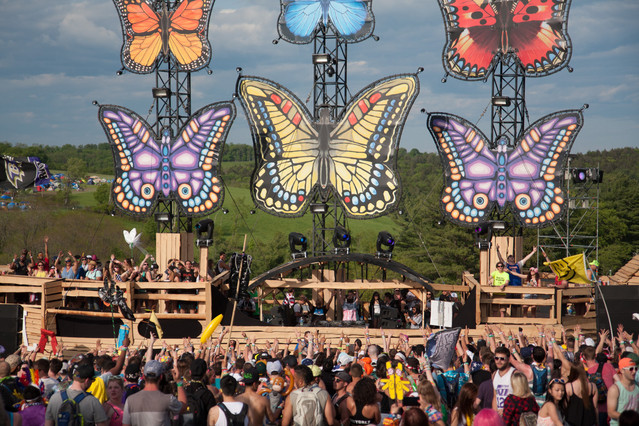 4. Rekorderlig Hot Air Balloon
Rekorderlig's hot air balloon took flight and flew high while artists like Dillon Francis and Flosstradamus performed. Everyone was invited to enjoy samples of Rekorderlig's premium hard cider from Sweden while waiting for liftoff.
The delicious cider came in three flavors which we sampled as did Michael Lang, one of Woodstock's original founders. This was such a fun idea and although the weather was not always agreeable, we were glad to see they were putting safety above all.
The Brooklyn Flea Food Market was relocated to Bethel Woods for the weekend, offering a delicious assortment of foodie delights for the festival goers. We enjoyed the veggie burger by Chickpea and Olive and tried the fries by Home Frite. Their all Natural Russet Potatoes were amazingly prepared in a careful 4-step cooking process and which leads to the perfectly crispy and fluffy fry. Served with a variety of house made dipping sauces, the truffle fries tossed in shredded parmesan cheese, black truffle oil and fresh parsley are literally some of the most savory bites we've ever had.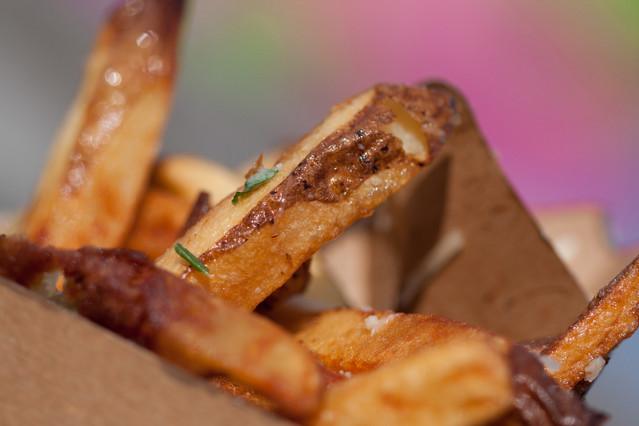 6. The Campsite
Saturday's Sunset before the downpour was probably one of the most breathtaking skies we've seen in a long time. Despite trudging through mud that was inches deep, it really opened everyone up to a deeper dive into the human experience.
Many festival goers returned to their campsites to find everything completely drenched. But we will say that something about being soaked in mud and dancing anyway was exceptionally exciting and wouldn't trade the experience for anything.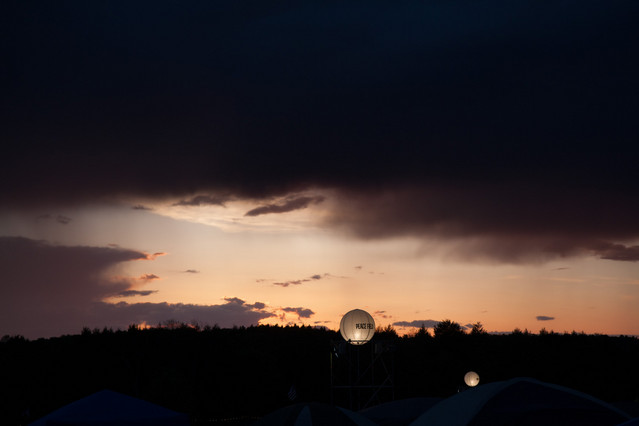 7. Grand Finale Fireworks
Kaskade played an uncharacteristic number of mashups and bangers closing out the "Queen of Hearts" themed mainstage. We enjoyed when he dropped "Me + You" by Galantis, but despite the somewhat generic track selection, it didn't make the closing show any less spectacular.
With an incredible display of fireworks and David Guetta's remix of Avicii's "Addicted To You,"  the festival  closed with a literal bang.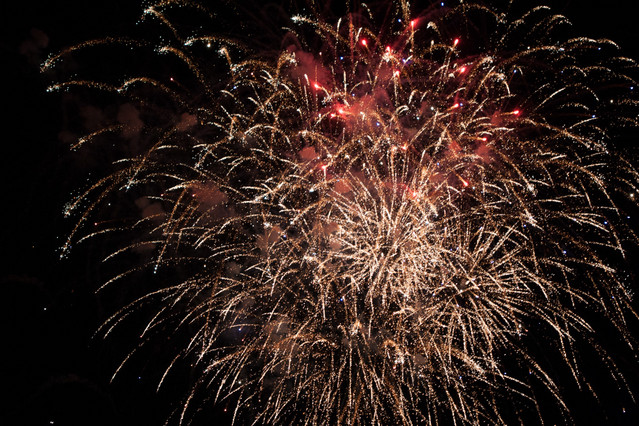 As the closing message said: "Many people will walk in and out of your life. Only true friends will leave footprints in your heart. Friends, you and me. You brought another friend, and then there were three. We started our group, our circle of friends. And like that circle, there's no beginning or end. Yesterday was history. Today is a gift. Tomorrow is a mystery."
The experience is what you make of it. Hats off to ID&T for setting up a lavish environment to experience. Stages were spaced out well, the energy of the audience was peaceful yet energetic, and all in all this was a wonderful festival experience. We would definitely recommend making plans to attend wherever the festival decides to set up camp next year.