An Evening of Wine and Culinary Adventures in Wine Country
Dan's Harvest East End brings together taste-makers and honored guests at McCall Vineyard and Ranch.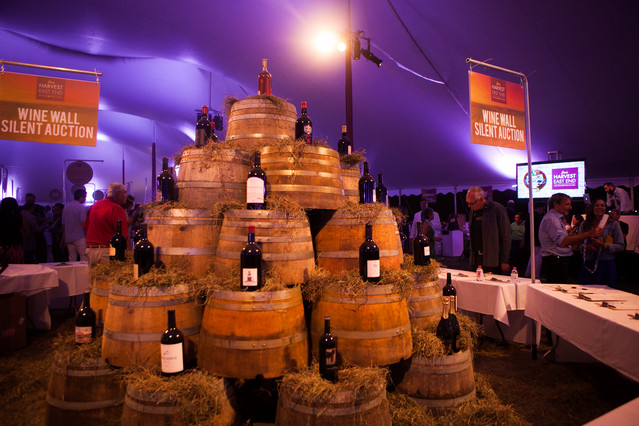 Last Saturday, Dan's HARVEST EAST END returned for its fifth successful year, drawing a crowd of 1,300 to celebrate the delicious bounty of Long Island's agriculture by pairing local grapes with local cuisine. With nearly 40 wineries and 30 top East End chefs gathered, there were endless bites and sips to try while listening to industry tastemakers speak.

Andrew M. Cuomo, Governor of New York was in attendance and spoke about the development of New York's wine and craft beverage industry and the wine tourism that has emerged alongside it.
He presented Macari Vineyards with the coveted Governor's Cup "Winery of the Year" award as part of the New York Wine & Food Classic. He additionally made a huge announcement launching a $300,000 marketing campaign that will promote Long Island wine country to travelers both locally and abroad.
Other awards were given to: Baiting Hollow Farm Vineyard's Cheval Bleu (Best Dessert Wine), Wölffer Estate 2013 Grandioso Rosé (Best Rosé Wine), Martha Clara 2012 Chardonnay (Best White Wine), Sparkling Pointe 2005 Brut Selection (Best Sparkling Wine) andMacari 2010 Cabernet Franc (Best Red Wine). We sampled all of them and they were clearly a cut above the rest.
Now for the food- there was definitely some of the best of the best at the event. Chef's showcased samples of some of the best of their best. Here are our favorite four local tastes: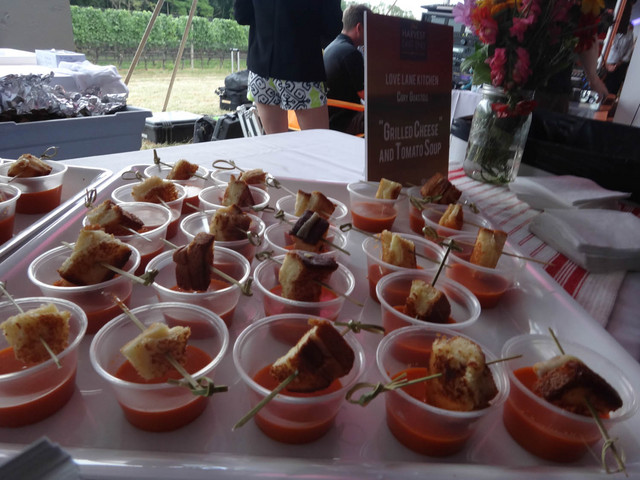 1. The Grilled Cheese and Tomato Soup from Love Lane Kitchen showcased the upscale flavors of the locally sourced ingredients.
The creamy tomato soup paired with the little grilled cheeses of perfectly melted cheese on lightly toasted bread went wonderfully with a sip of light sauvignon blanc.
Hearing about their relaxed environment and local regulars made this a spot that we will definitely make a point to go by when we find ourselves next out in Mattituck.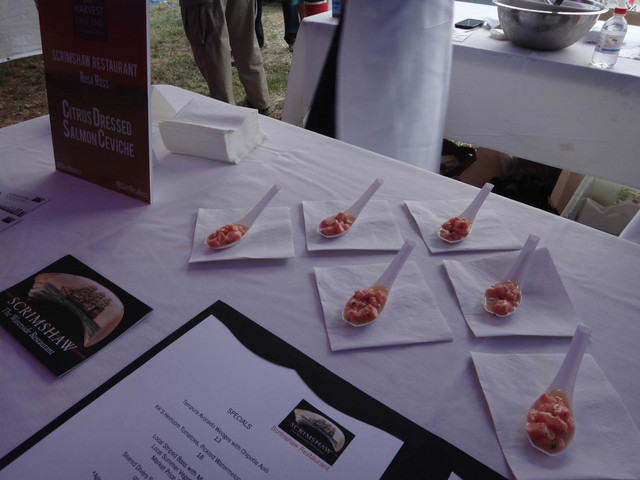 2. Salmon Ceviche from Scrimshaw Restaurant 
Citrus dressed salmon delighted our taste buds- while it was light, it was simultaneously exploding with fresh flavor.
Rosa de Carvalho Ross, the chef and owner of Scrimshaw Restaurant in Greenport NY, grew up in Hong Kong but began her culinary journey while living in Europe. It's no wonder she knows how to do fusion so well. Definitely hope to make a trip out to her dockside restaurant soon!
To Plan Your Visit: Scrimshaw Restaurant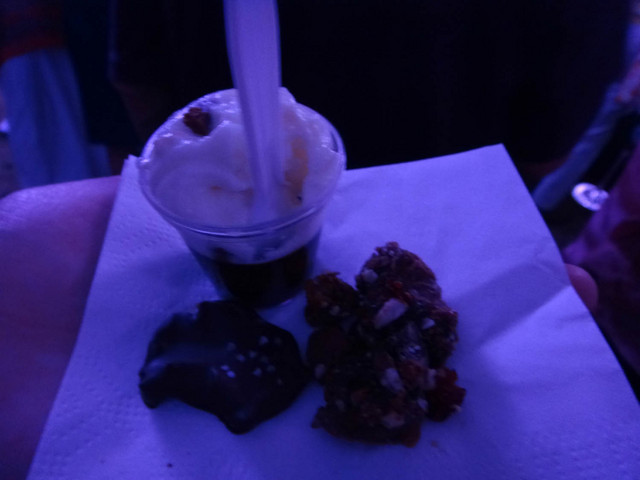 3. North Fork Chocolate Company
The North Fork Chocolate Company selects trusted brands,  local, organic, and natural ingredients for Artisanal Chocolates and Gourmet Desserts. We sampled the merlot mousse, soft chocolate brittle, and a dark chocolate pickle. Their unique twist on all three was truly delightful (and was enhanced with a glass of Sparkling Wine from Sparkling Pointe.) Don't miss out on the Belgian Chocolate handcrafted and filled with the goodness of local farm products on the east end of Long Island.
To Plan Your Visit: North Fork Chocolate Company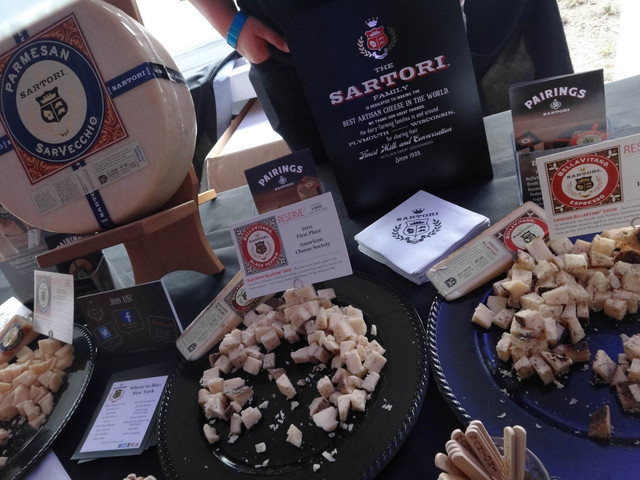 4. Sartori Cheese
What would a wine event be without cheese? That said they definitely couldn't  have had a better representation. The Sartori family is dedicated to making the world's finest artisan cheese, made from premium milk supplied by local Wisconsin farmers.
This fourth-generation family owned and operated company has an amazing array of cheeses that have won multiple awards.
Our favorite: Hand-rubbed freshly roasted espresso into sweet BellaVitano cheese.
This event was made posible by the Long Island Wine Council and Dan's Papers.