A Day Aboard the I LOVE NY Fun Bus
Wine, brews, and spirits all from their Long Island source.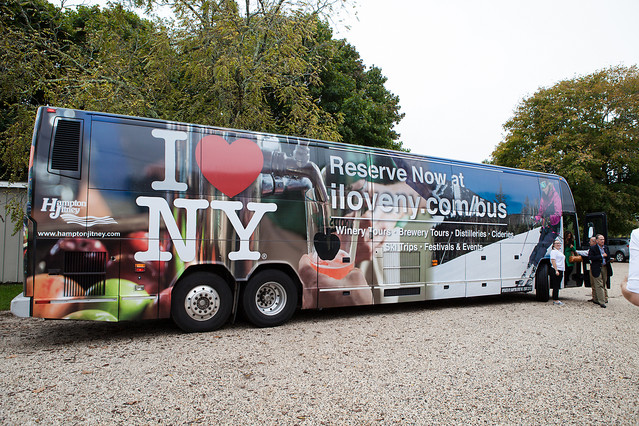 In an effort to make the delights of Long Island even closer to NYC, The Hampton Jitney has teamed up with I LOVE NY to bring both economical and fun day trips from our wonderful city. These trips include round trip transportation from New York City, lunch, and all the tastings at each winery/brewery/distillery for only $169 per person. If you're looking to make a long weekend out if it, Hampton Jitney additionally has multiple departure/return options so I would recommend making several trips out there this season to explore all the bounty that the island has to offer.

We set off on the luxury motorcoach and immediately were offered snacks and beverages. The seats were comfortable and wi-fi was complementary allowing me to get some work done on the trip out. After a quick 90 minutes, we were already pulling up to our first stop: Jamesport Vineyards.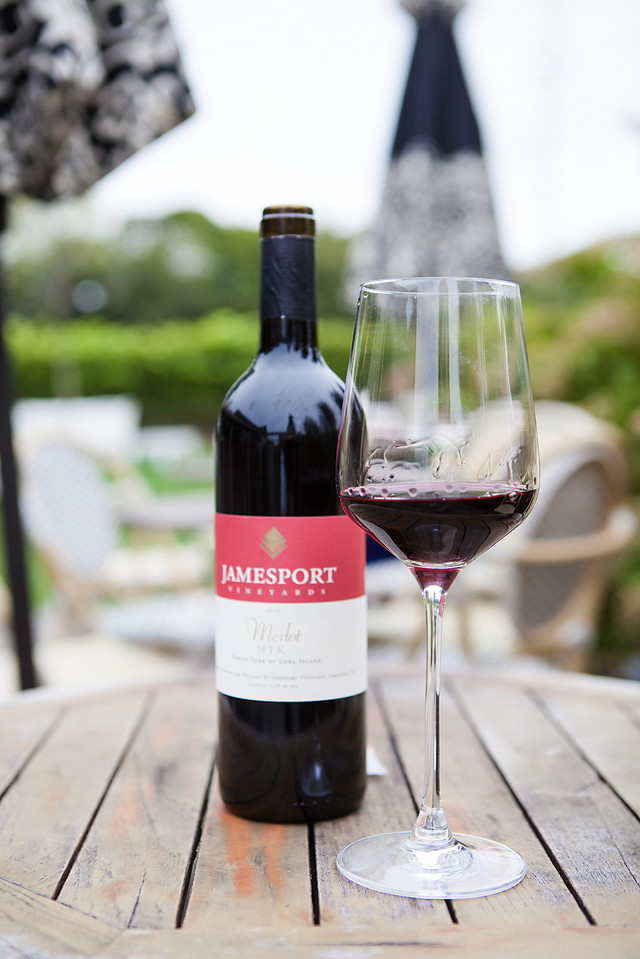 Jamesport Vineyards is a father-son collaboration that began in 1981 at Early Rising Farm in Cutchogue, New York. This makes it one of the North Fork's oldest vineyards. They have sixty acres of pristine vineyards and it was wonderful tasting some of their many offerings include Sauvignon Blanc, Chardonnay, Merlot and Cabernet Franc. Their wines are either aged in French oak barrels or a stainless steel barrel, which gives each offering a distinctly different yet enjoyable flavor. The cool maritime growing climate leads to a natural acidity in the grapes – which many other wineries may have to artificially add depending on the location.
Not only were the wines delicious and the high quality of their fruit apparent, but their Chef Noah had also crafted some food pairings that are one of a kind. We sampled a variety of his specialty wood fired oven flatbreads such as the Roasted fig and LaQuercia Prosciutto and a melt-in-your-mouth Fire Roasted Local Mushroom with a rich Truffle Crème Fraiche. Another highlight was the Wood Oven Warm Lobster Roll with warm Atlantic lobster and garlic butter served in a toasted potato roll.  Appetizers included Beer & Bacon Glazed Almonds and Citrus Marinated Olives. With their commitment to bring their fresh flavors "farm to fork" and their belief that "wine brings people together," this is a spot that you're not going to want to miss.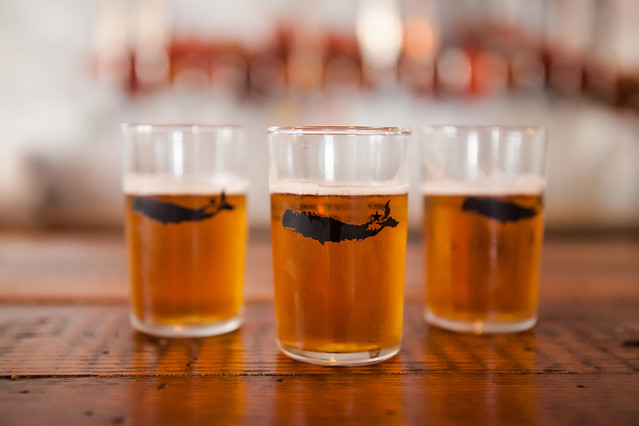 A short drive away was our second stop: The Greenport Harbor Brewery. Since 2009, Greenport Harbor Brewing has been turning out tasty, refreshing beers right in downtown Greenport. Their first brewery/tasting room is located in a converted firehouse on Carpenter Street and has been turning out a variety of delicious brews.  Their new location is a converted old Chevy dealership amidst the vineyards of the Peconic and has offerings such as the brand new Harbor Ale and seasonal brews like the Leaf Pile which has a rich pumpkin flavor. For the brave hop lovers, we'd recommend the Hopnami, which as the name suggests is quite bursting with rich and intense flavors. This fine microbrewery is growing immensely and the owner John Liegey has plans to open a restaurant in the spring that will only source food from within an 11 mile radius.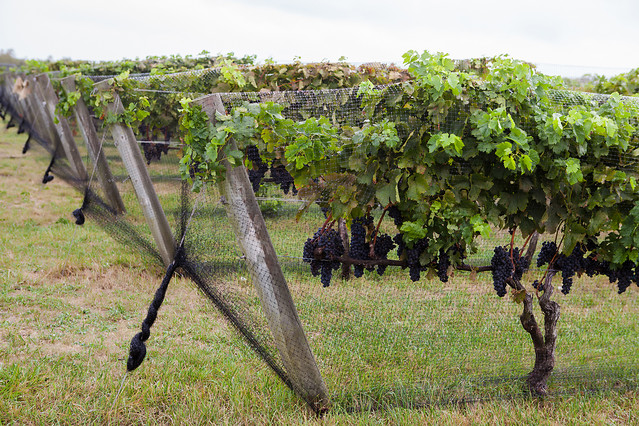 Next stop was the Macari Vineyards & Winery. Macari Vineyards is located on the North Fork of Long Island in Mattituck and is owned and operated by the Macari Family. The Macari family has owned the 500-acre waterfront estate for over fifty years, though Macari Vineyards was not established until 1995. This Family owned winery runs operations with only 22 employees. It was fun to see that they employee interns from all over the world who get to hang their flag at the end of harvest. Many go back to their respective countries to set up wineries of their own. The 280-acre land is also a working farm so manure from the farm animals goes into the growing up the grapes. They don't believe in spraying which can lead to sometimes a smaller harvest but you can be assured that the quality will be top notch.
After winning the award for Best Long Island Winery last year, The Macari family is proud to showcase a collection of world-class wines from the emerging North Fork region. My favorite was the 2012 Savignon Blanc and the 2008 Dos Aguas. The climate of the Long Island sound combined with the Peconic bay and Martime climate definitely creates something special. Another amazing fact about the Macari process is that a human hand touches the plant at least 7 times per year before harvest.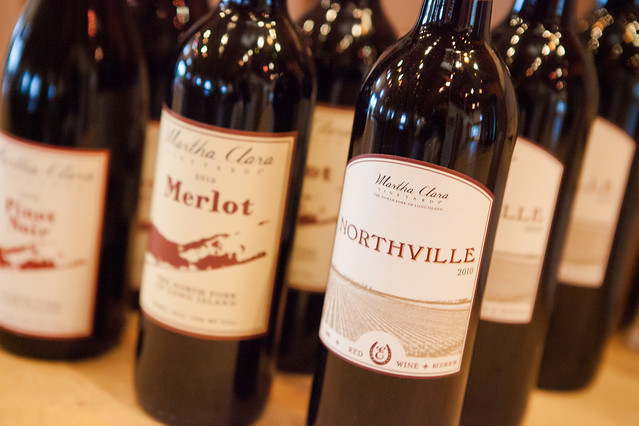 Our fourth spot was the Martha Clara Vineyards. Robert Entenmann, owner of Martha Clara Vineyards' named the venture after his mother, Martha Clara Entenmann. Although the property was initially purchased solely to raise horses, in 1995 Robert planted 18 acres of vitis vinifera grapes and over the next four years his vineyard acreage grew to 112 acres. The first wine produced was a 1998 Viognier and today, the Long Island vineyard's are home to 14 different types of classical European varietals in addition to a variety of fruits and animals kept on the farm. They have won a litany of awards including in 2012 the Best Chardonnay in New  York State and the best 2010 Merlot in New York State.  They do weddings and private VIP tastings as well so be sure to keep Martha Clara in mind for your next event or wine outing.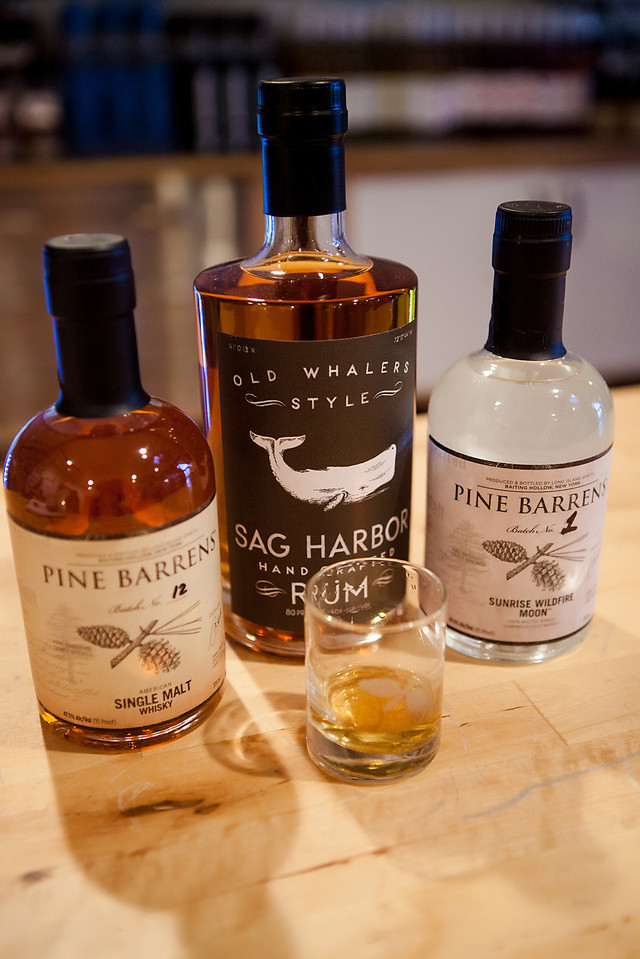 Our final stop was LI Distilling. Long Island Spirits was founded in 2007 and is the first craft distillery since the 1800's located on Long Island. The distillery is home of LiV Vodka which has won many awards including the NYSA 2009 Best of Class. This spot is surrounded by 5,000 acres of potato farms so the potato vodka is close to the source of its materials. Long Island Spirits is uniquely a farm-to-bottle handcraft distiller operation.
They have a fun array of flavored vodkas such as orange sorbetta, raspberry sorbetta, and even an espresso flavored vodka. For those that prefer something stiffer, they have an array of barrel aged spirits as well.  The Sag Harbor Rum was a personal favorite of mine as it's aged in old bourbon barrels and then infused with spices and fruits which gives it a very distinctive flavor. We then hopped aboard our luxury bus and headed back to the city with full and happy stomachs.
Beyond this I LOVE NEW YORK bus trip, you may want to check out The Taste North Fork on November 8 and 9 which takes place over Veteran's Day weekend. There will be special tastings, events, discounts and live music with a free "hop on-hop off" shuttle running from noon to 6 pm throughout the North Fork to connect the wineries together.
The I LOVE NEW YORK Bus will continually add more events to its schedule so follow them in order to stay up to date. On-board ticket sales are available if space permits, but advanced reservations are highly recommended. Reservations can be made HERE.