Why District Tap House is About to Become Your New Favorite Craft Beer Bar & Restaurant
Garment District haven announces new cocktail program and seaonsal small plate menu.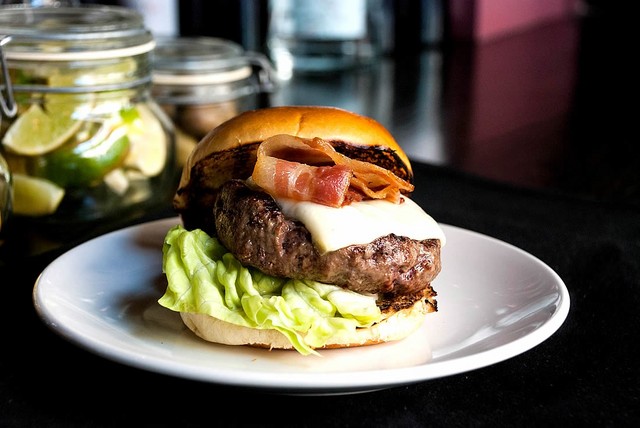 When we first heard about the District Tap House's new cocktail program, we couldn't wait to have a taste. Little did we know that we would be walking into something far more amazing than that. And it's no wonder- with the dynamic head bartender Noble Harris who has worked at the likes ofDylan Prime Steak House in Tribeca and Chef Geoffrey Zakarian's Grand Café heading up the list of cocktails for every pallet.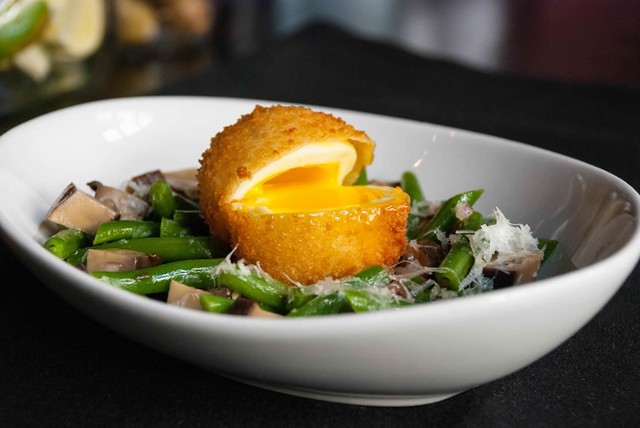 They also have debuted a new signature Fall/Winter menu by the new tap house's new executive chef Harrison Mosher (formerly head chef of Alta in Greenwich Village and prior to that the sous chef of 71 Clinton Fresh Food.)
One of our favorite beverage nuances: flavored ice cubes including Ginger, Spice Apple, Serrano Pepper and Rose Water and Hibiscus. We loved the Midtown 75 which was vodka, mint, lime, prosecco and a watermelon ice cube.
Another unique offering is the cocktails on tap. We sampled the District Julip but they also have a District Mule. For the more adventurous, we recommend the Mezcal Firing Squad. This drink will take you on a wild ride. And for the beer lovers out there, they have 50 different beers on tap, 25 canned beers and 62 bottle beer options. Check out the full menu here.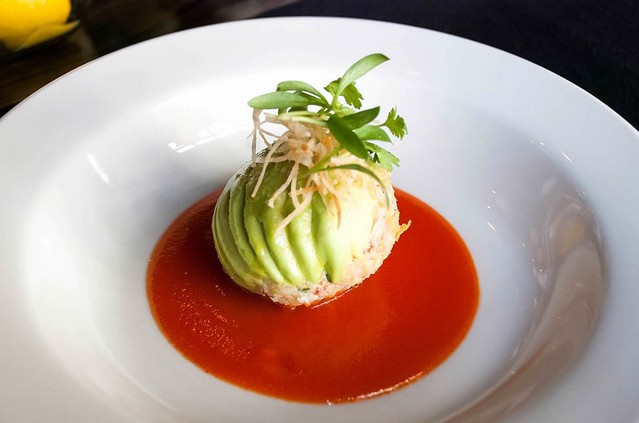 For the culinary bites, we sampled the Warm Haricot Vert & Mushroom Salad with a Scotch Egg and an Avocado Relleno with shrimp, crab and red pepper coulis. Also on top you can see the 6oz grass fed beef District burger with bacon and fontina cheese.
Tucked away in the Garment District, the warm and welcoming District Tap House is a haven for beer, wine and spirits connoisseurs. The newly opened establishment's food and beverage program is led by Noble Harris and John Byrd who have worked with Geoffrey Zakarian, The Cobalt Club at the Gramercy Park Hotel, Perry Street and Schiller's Liquor Bar respectively.  Crafting the food menu is newly recruited chef Harrison Mosher formerly of Alta in the West Village. He crafts a menu that showcases his affinity for farm-to-table cuisine and the freshest seasonal ingredients. District Tap House's private backroom, Vig, that can seat-up to 30-35 people and can be booked for intimate mixology classes
And if you've read this far you deserve the secret: They do happy hour after 11pm as long as you say "I know about the late night happy hour." It's the perfect answer for those who are hitting a show or work too late to partake in the city's generally early ending drink specials.
District Tap House New York City is located at 246 W 38th St. between 7th & 8th Avenues in New York City's Garment District. The venue is open daily from Noon until 3am. For more information visit: http://www.districttaphouse.com/ or call (212) 221-1822.