UrbanSpace Debuts New Outdoor Food Market
The seasonal pop-up - sweet tooth edition in the garment district.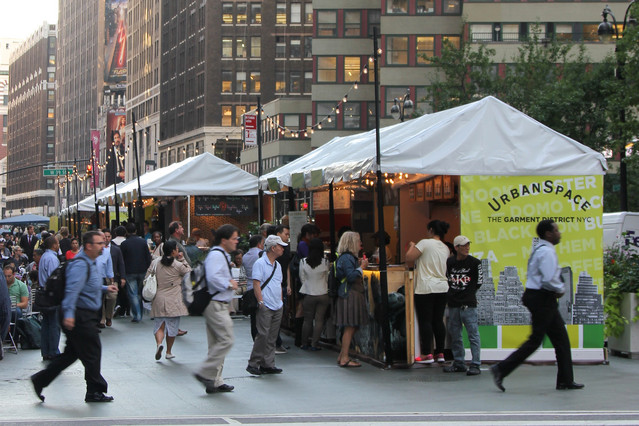 UrbanSpace has done it again! Grab your friends and your appetites and head to the month long food fest in New York's famous Garment District. From 39th to 41st streets on Broadway you'll find a creative blend of vendors that are taking part in this event that is part greenmarket and part country fair.  But you'll want to hurry because this pop-up only runs from September 15th – October 17th, 2014.
Since we went in-between lunch and dinner, we focused on the sweetness and the cheesy offerings. While it's impossible to eat at all the amazing vendors in one go, here's the few of the culinary delights we sampled and enjoyed.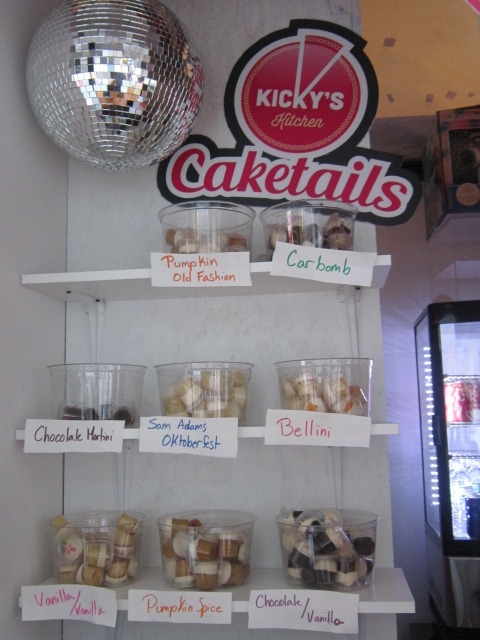 1. Kicky's Kitchen – Caketails
If when you hear Caketails you thinking "alcoholic cakes" then you're right on track. Christy MacKinnon has crafted a selection of amazing and alcoholic cakes. Conveniently packaged into travel size bites, these cakes would be fantastic for you next party or even just for satisfying a craving for a bellini after lunch.  With flavors like carbomb, chocolate martini, bellini and a variety of seasonal flavors (think pumpkin old fashioned) this is definitely a sweet and fun spin on your typical cake dessert).
2. Café Patoro – Cheese-flavored Tapioca Roll
This amazingly authentic food company is devoted to sharing the warmth and cheesiness from a Brazilian cheese-flavored tapioca roll. That's right – it's all the amazingness of different flavors combined with tapioca. All natural and gluten free this spot has something for everyone. We tried the cheddar cheese bread and it was crispy on the outside while chewy on the inside.  Other flavors include bacon and cheddar, jalapeno, pesto, roasted garlic, and sliders of all of the above.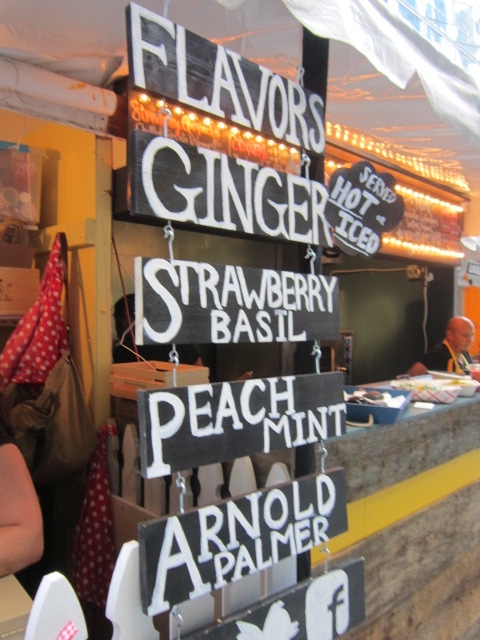 3. Frittering Away – Lemonade
We sampled the ginger, strawberry basil, and peach mint flavors and all were fresh and delicious. They focus on all natural and seasonal ingredients –although Megan and Bailey mentioned how customer demand wouldn't let them get rid of the strawberry basil. And it really is that good. Don't leave without giving it a taste!
4. Batter and Cream – Handmade Whoopee Pies
This amazing New York based spot specializes in handmade whoopee pies. With original flavors such as pumpkin spice, vanilla funfetti, s'mores, chocolate peanut butter pretzel, this is one that is hard to miss. For the more adventurous there are flavors like strawberry basil, brown sugar beet, and fig honey and goat cheese. Whatever the flavor you'll find they melt in your mouth and are portioned to satisfy while not over-indulge.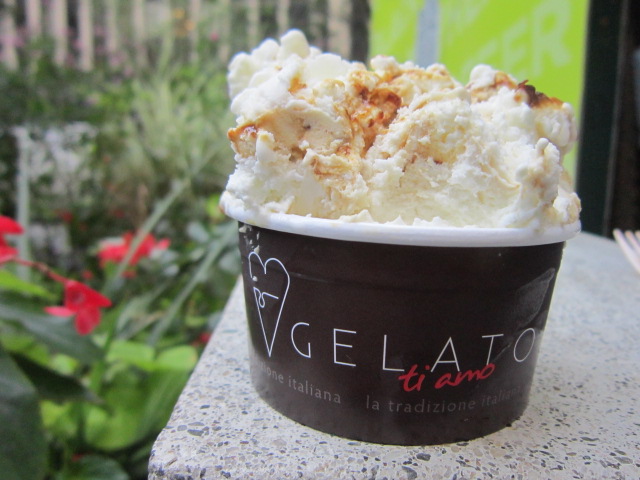 5. Gelato Ti Amo – Tuscan Gelato
The ingredients in its gelati are top-notch: the best Italian milk, pistachios from Bronte and peak-of-the-season fruits. It's 100% organic, natural, gluten free and when we sampled the fig marscapone it melted our mouth. The flavors will be rotating so we'd recommend stopping by as frequently as possible to taste all the delightful combinations.