Under the Electric Sky
All about the 3D Documentary on The Electric Daisy Carnival directed by Dan Cutforth and Jane Lipstiz.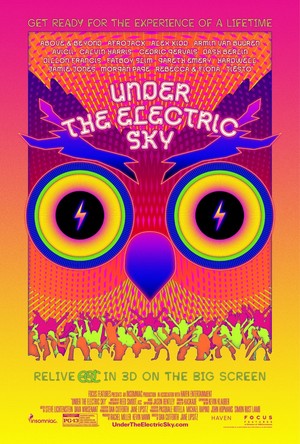 In case you've not heard of it, Electric Daisy Carnival (EDC) is a large-scale dance music festival tracing back to 1997 that has been held in Puerto Rico, New York City, Dallas and Los Angeles. This 3D movie brings the up close and personal experience of EDC to the big screen. Through five compelling stories, this documentary chronicles the life, love, community and passion of festival goers.

The stories were heartfelt and touching. Long distance lovers and young professionals meeting halfway around the world to dance together. Watching a young man bound to a wheel chair rise about and let his mind soars above the festival. An older couple who fell in love at EDC 15 years before finally decide to tie the knot.
The unique and personal stories are all set to the backdrop of the very music that brings everyone together. Music performances include Afrojack, Above & Beyond, Armin Van Buren, Avicii, Hardwell, and Tiësto. The 3D platform allows you to experience the lights, lazers, art, and confetti without leaving the comfort of your own chair.
Pasquale Rotella is the mastermind behind the whole event and he shares his vision and purpose in making it about the fans – even going so far as to call them "headliners." It's a nice positioning to share some of the rock star fame that DJ/Producers receive. Under the Electric Sky was co-directed by Dan Cutforth and Jane Lipsitz and they do a compelling job of showing what draws 345,000 fans each year to attend the event of the year.
"The Electric Daisy Carnival is so many different things. People are coming here to be inspired. It's a music event, it's an art show. If you go back to the purpose of cathedrals, and what people were going for, it was to feel small and spiritually alive." – Under the Electric Sky
Check out the trailer here and be sure to grab your tickets when it comes to a city near you.