NYC Craft Beer Festival Partners with Leukemia & Lymphoma Society
Beer tastings for a cause, June 20th and the 21st.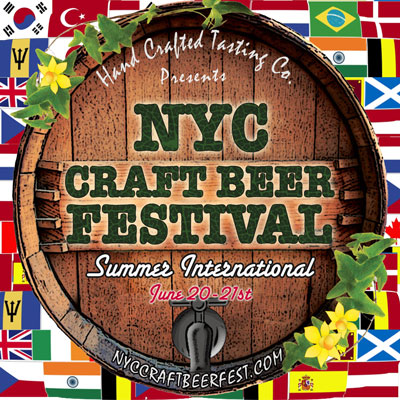 NYC's Craft Beer Festival is coming up and it's an event you're not going to want to miss! On June 20th and 21st you'll have the opportunity to enjoy 150 craft beers from 75 different breweries while raising money and awareness for the Leukemia & Lymphoma Society (LLS).

Leading craft beer experts will host intimate, 50 people, first-come, first-served, seminars, and many brewer representatives will be available at the taps to educate the guests about their liquid offerings. And for every ticket sold one dollar will go directly towards LLS' mission of fighting blood cancers. A small sampling of the 150 craft beers on the main floor will include the likes of Reissdorf Kolsch, Fuller's London Pride, Victory Dirt Wolf, Wandering Star Zingari Wit and Hobgoblin from Wynchwood Brewing. 
Also foodies don't despair – deliciousfood will be available for purchase from the acclaimed NYC restaurants: Jesse's Empanadas, Morris Grilled Cheese and Rosamunde Sausage Grill.   Their menu offerings will be picked specifically to accompany the Summer International selections. And for you ice cream lovers, Tipsy Scoop beer-infused ice cream will be available. It's made with Brooklyn Brewery's Chocolate stout and is the perfect desert for the summer tasting.
Want to attend? There are three session options.There will be one evening session on Friday, June 20th, from 7pm to 10:30pm and two sessions on Saturday, June 21st, from 1pm to 4:30pm and 6pm to 9:30pm. The first hour of all three sessions will be exclusive to VIP and Connoisseur ticket holders.
"New York City has access to so many great beers, from fresh brews made by local brewers, to internationally renowned beers of countries like Belgium, Germany, France, and Italy. This festival will showcase the wide range of beers available that make New York a special place for beer enthusiasts." -Giancarlo Annese, co-author of "Beer Lover's New York," and festival beer curator.
Also, for those of you who are wanting to enjoy a touch of exclusivity, 150 Connoisseur tickets are available for purchase per session.  The Connoisseur package offers a fast pass to the entrance and access to the exclusive Connoisseurs Lounge for the entire session where there will be an additional 12-15 rare beers not found on the main tasting floor including breweries like Orval, Schlenkerla Helles, and Gavroche. Don't wait! Tickets will sell out.
When: Friday, June 20th, 7pm and Saturday, June 21st 1pm and 6pm
Where: Lexington Avenue Armory, 68 Lexington Ave., NY, New York