Event Review and Exclusive Interview with Cosmic Gate at Pacha
Catching up with dynamic duo before their show at Pacha NYC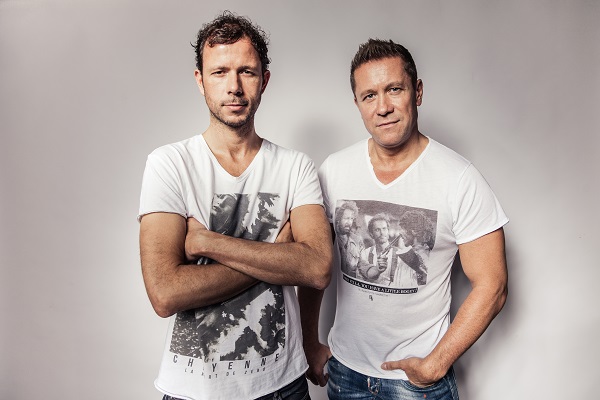 Cosmic Gate, German trance duo made up of Claus Terhoeven (aka Nic Chagall) and Stefan Bossems (aka Bossi), have been producing music for over a decade. We had the pleasure of having a chat with them before their show at Pacha on December 13th.

What has been the favorite track off the Wake Your Mind Deluxe Edition– both personally and on the dance floor?
It depends on the mood on the dance floor and it depends on the club. Some crowds are more bouncy and some are more trancey and it's different listening to the track. You feel one track more than another one day to the next. So we will not really go and put one out against another. If you just heard it and sometimes we love it for two to three weeks. Then once they get tired of it again I'll have a different favorite. We don't want to pick a favorite but it's good that we have the option to pick.
What was your process in selecting which remixes were featured on the album?
It's always a mix of producers that we love in that moment, what fits the track, and who we're playing a lot in our sets. We discuss it as we go through our playlist and when we both get to an "Oh wow, this guy is amazing with this track" we'll ask them to do a remix. It is a lot of work that our colleagues put into this. Sometimes you get the mix and boom you love it, and sometimes I expected something totally different but it is still good. We ask for every single remix. We search for people and then hopefully it comes together.
Where do you see trance progressing in 2014?
It is very interesting to see and of course if we knew it would help us too. We always hope to be a part of leading where trance is going. There's a movement towards going back to the old school trend but we are fans of looking forward and building the next sound. We love trance as it was ten to twelve years ago, we love the big/moving melodies, and we want to combine this new sound with new beats. So we'll see what the future brings. You never know, you just have to just try it out.
Do you prefer to perform at festivals that are mostly trance or with mixed genre lineups?
It can be great to have mixed genre lineups. When a trance DJ plays before and you have a great crowd you can still play after.  But sometimes it is good to go up, feel the vibes, and take over — if it's an open minded crowd it can be awesome. So it really depends on the circumstances of the crowd and how everyone feels. In some markets it may make more sense to go with a total trance line up but in others it may be good to have a house DJ then a trance DJ and then maybe a dubstep DJ. People here in the US are very open minded and for me personally I like enjoying different kind of music rather than be on one level for hours and hours. Once again it depends on my mood too. (laughs)
What are you listening to right now?
Truly a lot. We have so many sounds we're into right now because we are working on the new album so we listen to different music. I think that it's very important for us and for our productions to know what is going on in different styles. The goal is to be open minded and to bring influences into our productions. But yeah, it's primarily electronic music.
Do you have a tentative time frame on the release on the new album?
Yeah, (laughs) It was meant to be released but it's safe to say definitely going to be before summer. We have a good amount ready but it has to be produced. We were just in Europe and India and coming back there's other work so it's quite a time consuming process.
You guys are constantly on the road, where in the world do you feel most at home? 
Nic: It's hard to say but I live in Orange County so I feel at home there. I also go back to Germany every three or four weeks. But my home right now is definitely Orange County.
Bossi: I have been in Vegas for two years, that's my home. Maybe with the amount of time we spend in hotels and aircrafts it's my modern base number one. Base number two is where still the family is in Germany so it's like a little divided but the US is home for us now.
You've worked with a number of great vocalists throughout the years- are there any you would like to work with in the future that you haven't already?
The good thing is there is always new talent coming. We like to work with people we click with but also like to introduce new talents to our listeners. We get four to seven demos every day and it's a lot to try to keep track of. It is a very cool process to get the album together.
Nic, do you have any word on the release of your solo album?
That's actually quite a funny story. I had so many tracks for the album all ready two or three years ago, but with all the work for Cosmic Gate and moving to the US I could never ever really finish. I'll finally have a new track to release hopefully in the next one to two months. The whole album yeah that will take a while because now again I'm with Cosmic Gate.
If you could give a younger version of yourself advice, what would you say?
First of all you have to always follow your heart and be in for the right reasons. If you want to drink champagne and make money well maybe you get out there for a while but there's a lot is missing. We think that people after a while realize it and see it so you're better off to just be yourself. Don't follow trance blindly because if you go on what everyone plays in a year or two it's over and you will not be standing for a certain kind of sound. You are gone with the sound when the wave is gone. Be unique and try to be something that others aren't. Just enjoy yourself. Especially in production try it less with doing stuff on stage. Be unique.
Just for fun, what's your preference: beef, chicken, pork, or other?
Nic: Beef
Bossi: Chicken
The Main Event:
We then went over to Pacha and when Cosmic Gate took the decks, the crowd went wild! People were singing along at the top of their longs when they played their synth-heavy production "Over The Rainbow" complemented with the vocals of J'Something.
The visuals at Pacha were stunning at the LED board splashed an array of lights and colors over the DJ booth. Even though the dance floor was completely packed, that didn't stop any one of the fans from throwing their hands in the air and dancing their heart out to each and every track.
We were thrilled when they played one of our favorite tracks "Beautiful Life" by Armin Van Buuren and even more glad that they dropped the Protoculture remix. When they did a fade for the vocals the rest of the crowd was singing along as well it was quite a fantastic moment.
Another one of our favorite tracks of the night was their classic "Barra." While we've listened to Cosmic Gatefor many years now, this is one of the tracks that never gets old. It sounded fantastic over Pacha's first rate sound system. As lights flashed around and professional dancers moved in time, the environment was classically that of the first-rate nightclub.
From "Teenage Crime" to their dance floor banger "So Get Up" and the increadible Above and Beyond tune "Mariana Trench" the track selection was on point to keep the crowd in a trance all night long. If you're not familar check out "So Get Up" below and definitely catch Cosmic Gate next time they're in town!