Newly-opened Calle Dão Now Open for Lunch
Incredible Fusion of Latin and Asian flavors available in Midtown.
Yesterday we had the pleasure of dining at the Chinese/Cuban fusion Calle Dão for lunch, and it's not a meal we will soon forget. The decor transported us right into a Cuban hacienda. This ambiance of laid-back Latin elegance with big beautiful ceiling fans was a lovely oasis to come into from the hot New York heat.

We started off with a couple of the specialty cocktails: the Opium (Michter's Bourbon, tamarind, ruby red grapefruit, lemon and poppy seed tincture) and the MaxVer (Aviation Gin, St. Germain, white peaches, agave, lime, shiso leaf). These drinks were the perfect balance of flavor and sweetness.
We began our meal with a Cold Bean Salad which was a light fresh bean and tofu salad topped with a tofu sesame dressing. Although not one of their more popular items, we're incredibly glad to have tried it and would definitely recommend to anyone. We also savored the Spring Rolls made with mushrooms, vegetables and a parsley mojo sauce.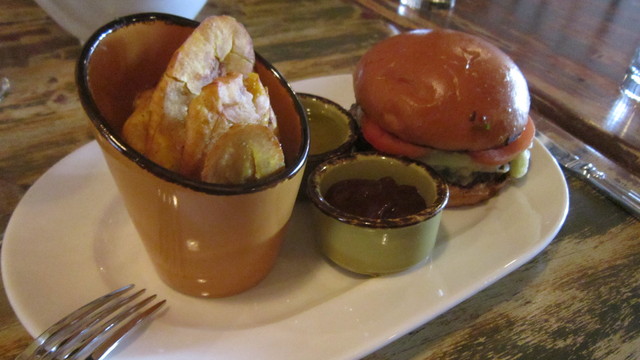 Before our entrees arrived, we enjoyed two more refreshing specialty cocktails – the Hai Chi (Hangar 1 Mandarin Blossom Vodka, plum sake, Cointreau, lemongrass, pomegranate) and the Revolucion (Habanero-infused Tequila, Ginger Canton, sweet corn, pineapple, agave, lemon, Absinthe, hibiscus salt). Both were served up in martini glasses and were cheery and colorful.
For the main course we had a Goat Burger with leeks, hoisin-salsa criolla and tostones and an amazing Grilled Mahi Mahi with seaweed fried rice, toasted basil seeds and shallots. The superb flavors were complemented with the spicy seasoning.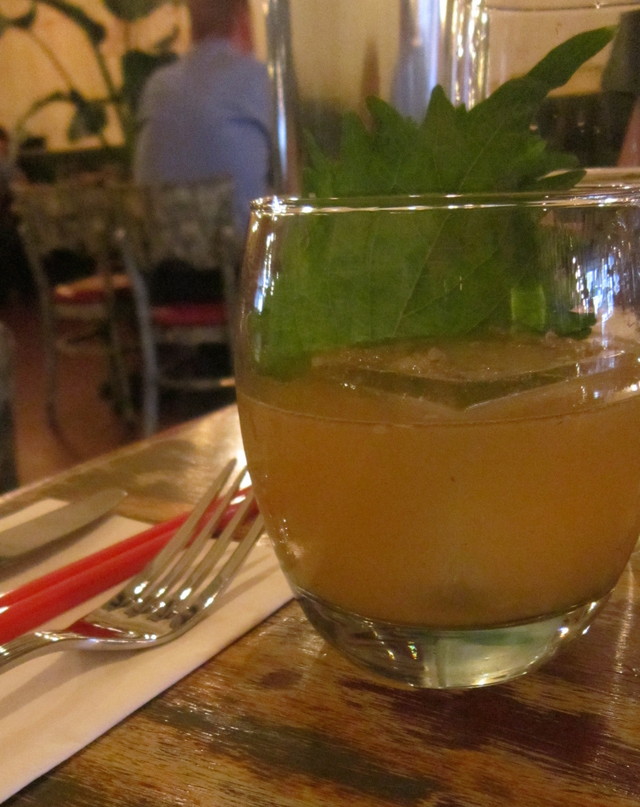 Calle Dão is a tribute to Havana's once-thriving El Barrio Chino. Occupying 44 square blocks, it was the largest Chinatown in Latin America. Today, it's confined to one street, Calle Cuchillo, which translates to Knife Street. The restaurant combines the Spanish and Chinese words for Knife Street to highlight the blending of these two cuisines.  For an exprience in fusion unlike any other, head over to Calle Dão.
Calle Dão is restaurateur Marco Britti's sixth restaurant.  Born and raised in Naples, Italy, Marco spent years in Brazil and Cuba learning about their culture, music and food traditions.  He moved to New York City and opened several restaurants including the popular Greenwhich Village haunt, Favela Cubana. A musician by trade, Marco has toured as a drummer with the rock band Talking Buddha, and has worked with Jennifer Lopez and Marc Anthony.
Lunch at Calle Dão will be served between 11am and 4pm, Monday through Friday. Happy Hour Specials are then available 4pm-7pm. Delivery and take out services are scheduled to begin by the end of September. Call 212-221-9002 to snag a reservation.