Mad. Sq. Eats Returns to NYC
Urban Spaces brings pop up to Flatiron through October 3rd.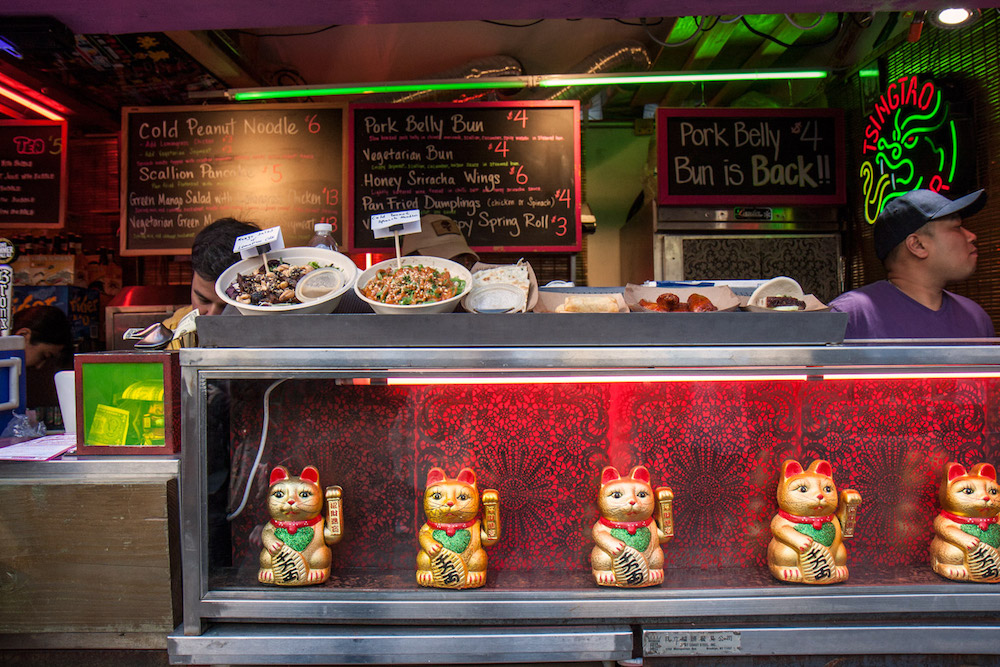 Last week we had the pleasure of attending opening day of Mad. Sq. Eats. It's open daily from 11am-9pm and features amazing items such as agave wine margaritas, local craft beer and wine, braised pulled pork sandwiches, hot dogs with kimchi and seaweed flakes, and fresh coconut water, and macaron ice cream sandwiches. Curated by UrbanSpace, and featuring 30 of New York's most enterprising chefs this is definitely not something you're going to want to miss!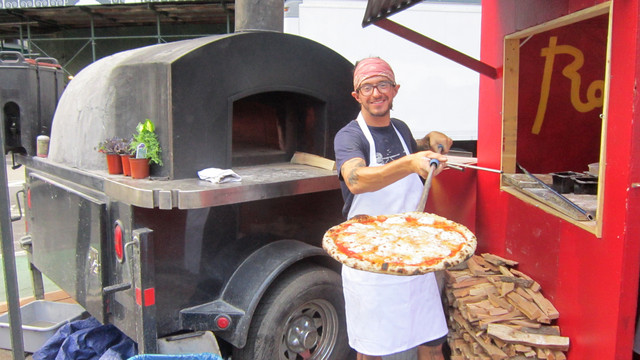 Surrounded by an array of delicious fare including artisanal cured meats, kombucha on tap, truffle French fries, Japanese curry beef tacos, and meatballs paired with homemade sauces, it was nearly impossible to chose favorites but here are some of the top spots that we enjoyed and would recommend checking out. And when you do be sure to use the hashtag #MadSqEats.
First stop: pizza made to order in a wood-burning oven by Roberta's. The mozzarella is made fresh every morning, salumi comes from American and Italian producers, and seasonal vegetables are used throughout the year. Since opening in Bushwick in 2008, Roberta's has become a neighborhood institution, a culinary destination, and an incubator for progressive entrepreneurship.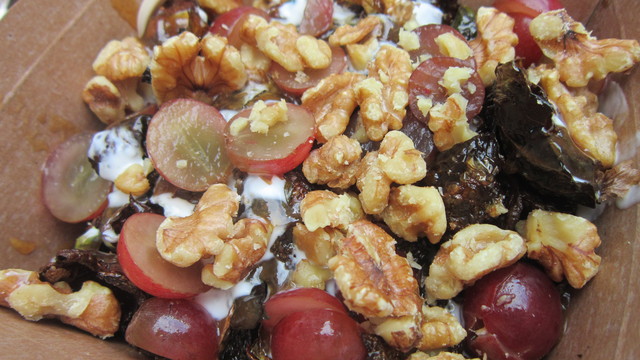 We then savored incredible crispy Brussels sprouts prepared with a mint yogurt, grapes, fig jam, and walnuts from Illili Box. Illili Box offers to-go versions of favorites from Illili, whose contemporary Lebanese and Mediterranean cuisine is consistently voted NYC's #1 Mediterranean restaurant by OpenTable diners.
After that came a taste of a miniature peanut butter doughnut from Doughnuttery. Doughnuttery makes hot, fresh, sugared mini-doughnuts accompanied by seasonal dipping sauces. Mini-doughnuts make an ideal accompaniment to your morning coffee, a delicious mid-day treat, or a perfect dessert.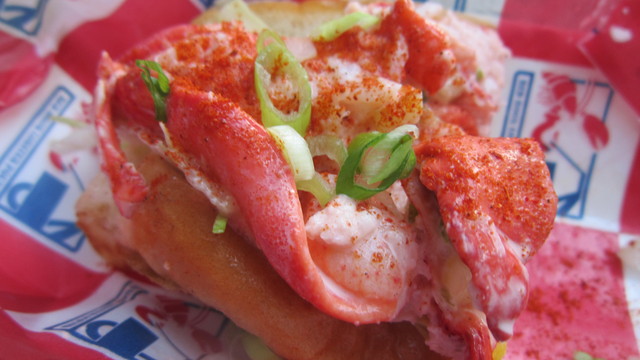 Next we popped over to enjoy an authentic Maine-style lobster rolls from Red Hook Lobster Pound.The Red Hook Lobster Pound brings sensational lobster rolls and seafood straight from the Maine coast to New York City.
Another favorite was a Stracchino Cheese and Arugula Torta from Turan produces authentic Italian beer, brewed from high-quality, artisanal ingredients that are sourced directly from the Lazio countryside. The unique new vendor will be serving its beer alongside Torta al Testo, Italian street fare that originated in the city of Perugia, in the region of Umbria. Beyond the market, you can find them at their new restaurant, Pasta Shop. The Torta al Testo is crafted with a flat pizza base and topped with authentic Italian meats and cheese.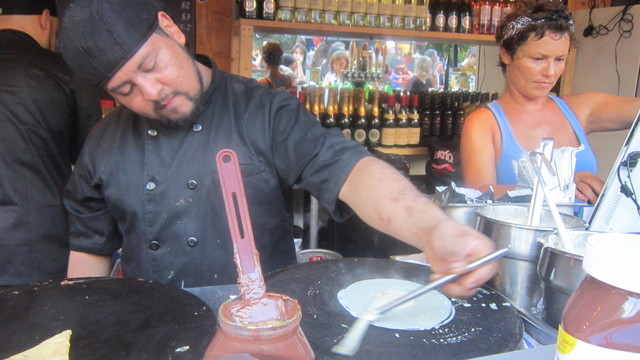 One of the favorite things we tried was the Nutella Banana Crepe. With the iconic Hazelnut Chocolate Spread & Fresh Bananas from Bar Suzette it was simple yet spectacular. The savory crepes all have a herbs de province seasoning mixed in which definitely enhances the savory flavors.  At Mad. Sq. Eats, they also offer an expanded menu that includes burgers, truffle fries and other classic fare. Be sure to try out one of their artesian craft cocktails as well!
Up next we sampled an Earl Grey Macaron from Macaron Parlour. Founded in 2010 by Christina Ha and Simon Tung, Macaron Parlour offers a wide array of delicious macarons. Their flavor offerings range from the traditional like Red Velvet to the crazy and creative ie Cheetos.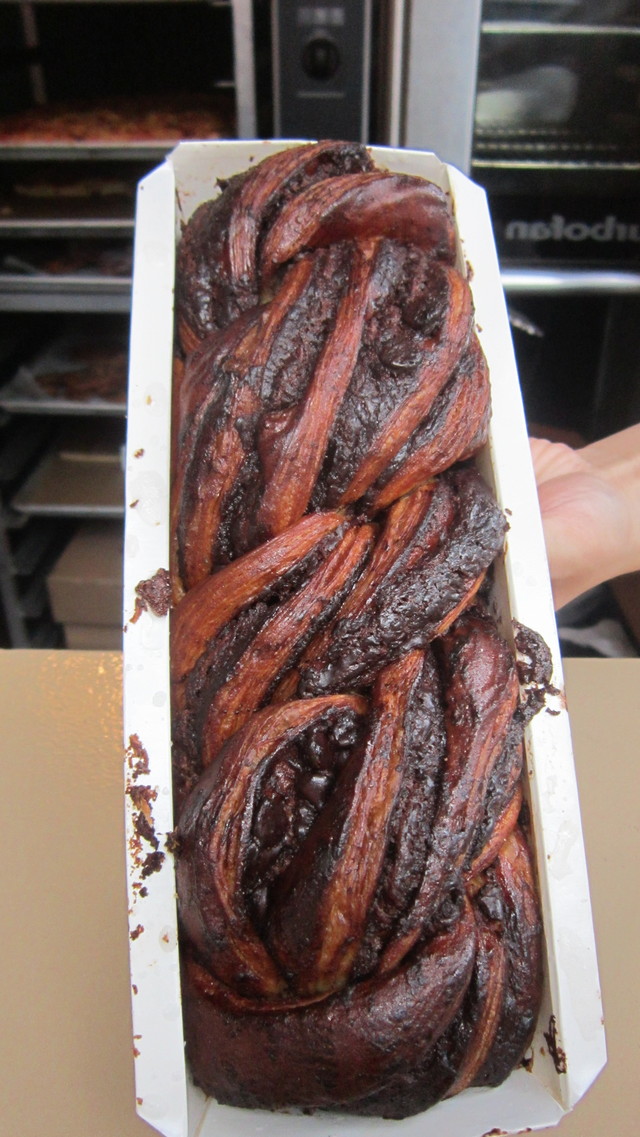 Finally we enjoyed a sample of rugelach from the popular Lehamim Bakery in Tel Aviv Breads Bakery. From sweet babkas and rugelach, to savory sandwiches and festive Challah, loaf legend Uri Scheft brings his craft to the Flatiron.
Born in Israel and raised in Denmark, Uri has become notorious for his sweet and savory items, including rustic breads and pastries, with an emphasis on unprocessed and organic ingredients. You can visit their store at 18 E 16th St as well.
For more information and to check out the other vendors check head over to Mad. Sq. Eats.