A Taste of Bavaria at Paulaner
Delicious food and brews arrive to the Bowery.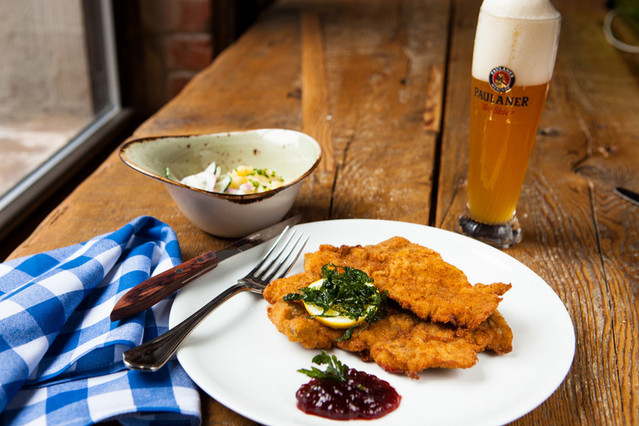 Earlier this week we had the opportunity to step into a Bavarian world and taste some of the most amazing food and drink around. Paulaner is a modern take on the traditional beer hall with great food and it's conveniently located at on Bowery.
Wolfgang Ban's (also of Michelin-starred Seäsonal) latest contemporary Bavarian restaurant is located directly inside an active microbrewery. Reclaimed wood provides a warm contrast to the industrial chic of imposing copper and steel fermentation tanks. Most impressively, everything from the beer to the bread, the sausage to the schnitzel, the pretzels to the stollen, is made in-house with locally sourced ingredients.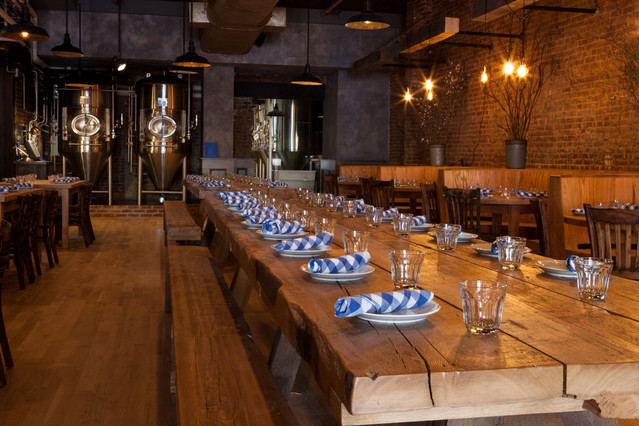 The microbrewery offers traditional Paulaner-style beers, with recipes of Master Brewer Andreas Heidenreich's own invention. Start the meal off right with a Munich Lager, a classic bright amber beer or perhaps a Munich Dark, a rich amber with a malty flavor. Heidenreich has also created a classic Hefeweizen, Munich Pale Ale, and the seasonal Winter Bock as well.
Executive Chef Daniel Kill creates simple, yet sophisticated fare that tastes even better when matched with Paulaner's beers and wines.  As a native of Bavaria who grew up on beer and brats, he rose to the top of his profession at Munich's Michelin-starred Tantris.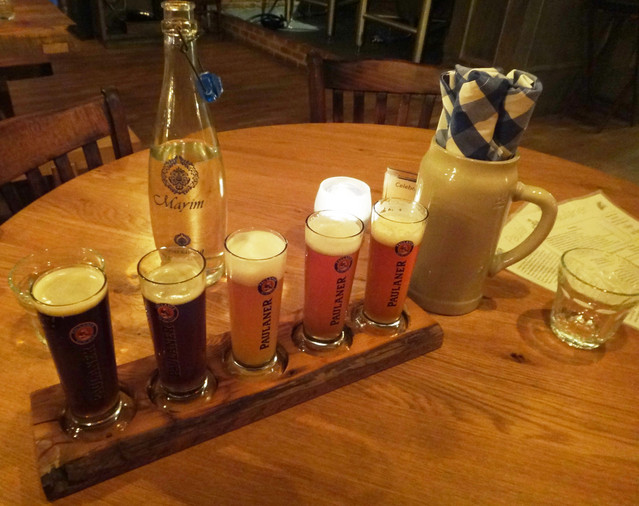 We recommend starting the meal off with The Obazda – a blend of creamy Camembert, butter, beer and spicy red pepper served with a freshly baked pretzel still warm from the oven. This dish pairs perfectly with a freshly brewed Hefeweizen. Up next, we sampled the Fried Camembert Cheese with Lingonberries and the House Made Potato Pancakes and apple sauce. Both were hearty and a perfect balance of flavor and freshness.
Next, try one of the authentic house-made sausages. The Paulaner, a smoky, dry-aged beef sausage made with beer and local cheddar cheese pairs well with the Munich Lager. Up next, sample the Lobster ravioli, a thin, wrapper-like ravioli stuffed with corn and lobster atop a bed of sautéed spinach.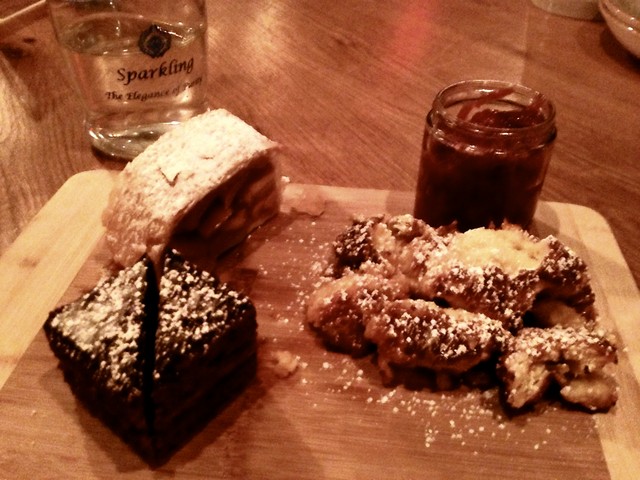 Finish off the evening with an amazing taste of the Sachertorte, which is a chocolate cake with whipped cream, a Warm Pear Strudel with caramel brittle ice cream, hot Apple Fritters with vanilla ice cream, and Sweet Buns with apricot jam and vanilla sauce. The restaurant's casual environment is both hip and lively, making for a perfect meeting place suited for large groups at long communal tables, as well as smaller tables to also accommodate more intimate gatherings. 
Paulaner, located at 265 Bowery just south of Houston Street in Manhattan, is easily accessible by subway and is open Sunday through Wednesday from 11am to midnight, and Thursday through Saturday from 11am to 1am. The space is available for private parties, beer classes, brewery tours, corporate team building, and other corporate meetings.