An evening of Art, Beer & Cheese at Sugarlift
Brooklyn Art Gallery shows pairs beer and cheese with local art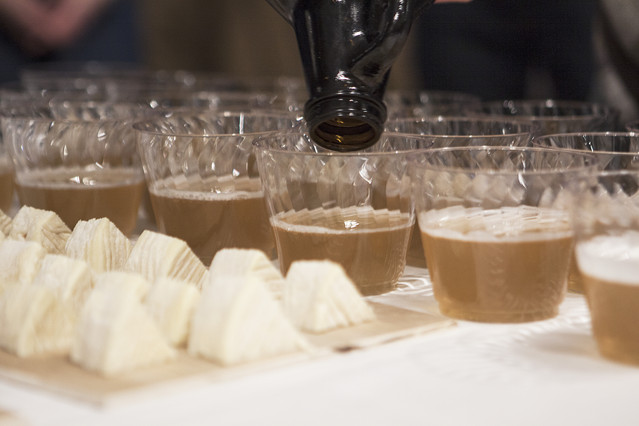 Sugarlift is a hot new art gallery founded with the mission of connecting a new generation of artists and collectors. Launched in November of 2014, this art gallery offers the best of both worlds with offerings both online and in a brick and mortar location in Bushwick.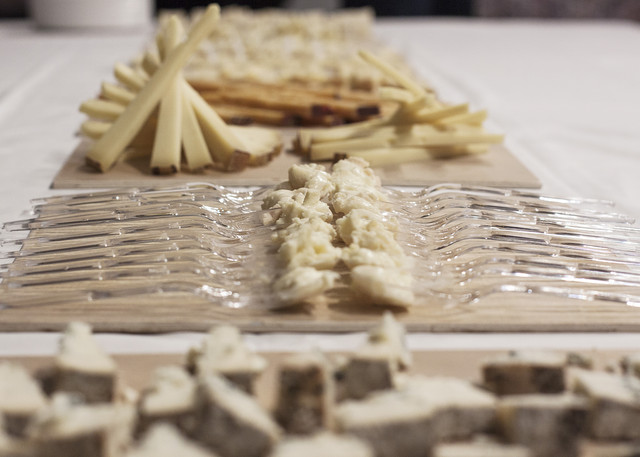 Last week, Blake Jordan of Hops and Hocks took a group through a tasting is a craft beers paired with cheeses with Brooklyn-based cheese enthusiast and educator Pam Brewer. With each pairing Sugarlift co-founder Wright Harvey shared a work of art from a local artist.
Sugarlift makes all the artwork from these local artists available through an approachable and educational online marketplace. If you're in NYC this week they are holding an opening for their second major collection. The exhibition presents over 40 new collages by 13 artists. RSVP via Facebook
The first pairing:
Beer: Thirsty Dog Saison
Cheeses: Cremont – Goat/Cow, Vermont & Abbaye de Belloc – Raw Sheep, France
Art: Lizzie Gill's "Coca-cola Standard"
Second pairing:
Beer: Single Cut IPA "Mo' Shugie"
Cheeses: Cabot Clothbound Cheddar – Cow, Vermont & Piave – Cow, Italy
Art: Kieran Madden's "The Last Ride"
Third pairing: 
Beer: Greenpoint Beer "Snuggles"
Cheeses: 5-yr Aged Gouda – Cow, Holland & Challerhocker – Raw Cow, Switzerland
Art: Jay Riggio's "Infinite Thoughts of Lara"
Final pairing: 
Beer: Green Hill Stout
Cheeses: Stinking Bishop – Cow, England & Bayley Hazen Blue – Raw Cow, Vermont
Art: Morgan Lappin's "The Queen is Sleeping"
Bonus round:
White IPA
Nine Pin Cider
Hops and Hocks is a craft beer and cider shop, growler fill station and dedicated purveyor of the finest cheeses, cured meats and locally-sourced provisions. They recently celebrated their first anniversary at their Bushwick, Brooklyn.
Pam Brewer is a Brooklyn-based cheese enthusiast and educator. Having managed and consulted for cheese shops around the city, she now shares her knowledge and passion with fellow cheese-lovers through guided tastings for groups, small and large.
Be sure to check out the Sugarlift's second major collection and also contact Pam and Hops and Hocks for all your cheese or beer needs.